---
Center for Changing Lives is pleased to announce
Juliana Gonzalez-Crussi as its next Executive Director.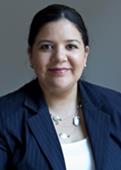 Juliana is an accomplished public service leader with a solid understanding of non-profits and the affordable housing industry. She holds a governor-appointed position on the Illinois Housing Development Authority Trust Fund Advisory Board, as well as Chicago mayoral appointments to the Advisory Council on Equity and Language Access Advisory Committee. She currently is the Director of Housing Counseling & Advocacy department at the Latin United Community Housing Association (LUCHA). Previously she worked as Senior Policy Analyst on housing issues at the Latino Policy Forum, Senior Housing Research Analyst at the DePaul University Real Estate Center's Institute for Housing Studies and as Director of Housing for the Illinois Migrant Council.
Juliana also brings significant international experience as she has taught English as a second language in Mexico, France and China. Juliana serves as a board member for the Illinois Migrant Council, the Farmworker Landscaper Advocacy Project and the Illinois Association of Agency and Community Organizations for Migrant Advocacy. She received her B.A. in International Studies and a M.S. in International Public Service from DePaul University.
CCL will host a meet and greet opportunity with Juliana in December, once she is  officially on staff.  Be on the lookout for more details soon!
---
 CCL is taking applications for the Computer User Support Training  and Administrative Training Programs!
Are you interested in starting your career? Check out CCL's two career advancement training programs. Both provide one-on-one financial and employment coaching, contextualized training, and connection to resources and potential employers. Want to learn more? Contact Vanessa at vista@cclconnect.org or 773-342-6210 x 222.
Ready to apply for the Computer User Support Training program? Apply now.
Ready to apply for the Administrative Skills Training program? Apply now.